And one needs to be frogged. I know that. I just can't bring myself to do it :( I love this pattern - it's one of the Chevron ones from Sensational Knitted Socks. I love the yarn (although I started it so long ago that I can't remember what it is and the band is floating around somewhere in this maze of a house).
I think it's a real "statement" sock. Unfortunately, it doesn't want to speak on behalf of any feet that I know.
It's not a pointless sock - I learned how to do a "forethought heel" and was very proud of myself when it worked out so beautifully with those concentric circles of yarn. Well, worked out beautifully insofar as aesthetics are concerned. But the thing doesn't stretch! At all! My sister-in-law has weeny feet and tiny ankles. So I encouraged her to pull hard - they won't break. Even she couldn't get them on. Where's Twiggy when you need her?
I have no idea how I could have made it stretchier - after all, I followed the pattern to the letter. I even swatched to get the right size, which is unheard of for me.
So it languishes in a ziploc bag in my "shame" pile of UFOs. I will frog it. One day. But not right now. Just in case I make a friend with sticks for ankles. One who would like to make a statement with them.
I finished my Spring Forward socks and sent them off to a (hopefully) happy recipient! Then, of course, cast about for more casting on to go with the incredibly boring stocking stitch jumper I'm making for my husband. He'll get it, one day.
Browsing
knitty
, I came across the
Queen of Cups
. A pattern for a Queen indeed. I had just the yarn - some delicious Colinette Jitterbug in Velvet Olive, purchased recently from the accommodating
Sarah Durrant
. So rich, foresty and glorious. This will be for ... moi. So I'm doing them on 2.75s.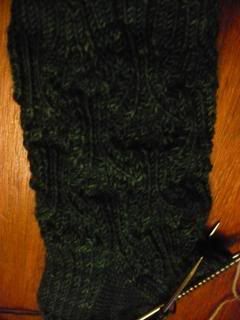 But, becoming engrossed in Series 4 of
"The Two Fat Ladies"
, I realised that I could easily make a mistake. Very easily. So the need arose for something simple (other than the jumper, of course!). I decided that my Araucania Ranco needed to become some fun socks reminiscent of fruit tingles, so I trotted out the old faithful
lacy mock cable
pattern. One cannot stuff this up. I think they look very lively and fun. Someone will get them for Christmas, I suspect.
Back to the Two Fat Ladies. I love cooking shows. Not all of them, mind. They have to be more than just culinary instructions. And no-one had more personality than these two wonderful women. "Just what I like to see - a big jug of double cream" I recall Jennifer (Paterson) saying. And seeing Clarissa Dickson Wright spread butter "lavishly" on bread makes one's arteries shrink in horror. But I would still love to eat pretty much everything they made.
Series 4 was the unfinished one, due to the death of Jennifer. Well, she lived hard - the end of every show featured them having a brief debrief over a drink (ginger beer for Clarissa), Jennifer always having a cigarette between her beringed, beautifully manicured fingers.
I miss them - they had such unadulterated enjoyment in each other and their creations. I could scarcely believe it when I discovered that they didn't actually know each other prior to the BBC throwing them together. As Clarissa said in an interview, as soon as they started cooking together, it was as if they'd been best friends for years.
Oh, and I must thank
2paw
for her helpful link :) I'm ashamed to say I found that very useful article a long time ago. But the brown nemesis still has a hole in it!!