Yes! I have done it! The brown nemesis no longer has a hole. It was a horrid job patching it up. My sister-in-law is staying with us at the moment and took Samara to the park for a couple of hours so I could have some peace and quiet in daylight to get it done. I took progress pics.
This is after tying the loose stitches, weaving in lengths of new yarn, and making new stitches with a crochet hook.
I then grafted the two rows of live stitches at the top and pulled the ends through to the back. Which created this freaking mess!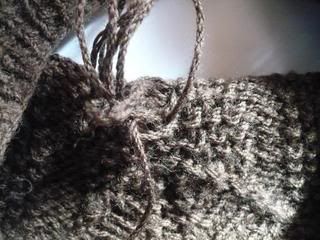 And the finished product. It's not perfect - I had trouble weaving all the ends in and working out where everything was supposed to go. Dark, slightly furry yarn didn't help!
I think it will look better after washing. The brown nemesis is now strictly banned from visiting farms!
These were a much more pleasant diversion!
Pattern:
Queen of Cups
Yarn: Colinette Jitterbug Velvet Olive
Sticks: Knitpro 2.75mm (still can't get used to not writing Knitpicks!)
I have good intentions of knitting a lot of Christmas gifts this year - hmmm. But I've started! I ordered some laceweight cashmere from
Knitter's Addiction
in a silvery grey and maroon. It only took 2 days to arrive - excellent service.
This is my very first laceweight project. I am using the silvery grey for a
falling leaves scarf
(Rav link) for my sister-in-law.
I have some old injuries to my hands and have trouble with really fine needles. These are on 3.5s, so the needles are okay, but it remains to be seen how I cope with the yarn.
And the maroon - just because I love this gorgeous rich colour! Not sure what this will end up as.
So I end this weekend feeling most virtuous! And very happy with my feet encased in my new Queen of Cups Velvet Olives!