I sometimes wonder how many lonely handknitted socks there are in the universe. Do knitters, filled with a burst of enthusiasm for new yarn and a new pattern, madly knit up sock number 1 and then sock 2 becomes a nemesis?
Spring rains have thankfully brought some gentle relief to our drought-stricken city. It rained for a week before we went away, then was lovely and sunny apparently, so the garden has burst forth with breathtaking new growth, the roses and vegetables in particular. And now it's raining again - our garden won't know what's hit it! I think our level 6 water restrictions are now delayed a month.
Well, life is back to some sort of normality after my trip out to central Queensland to celebrate my youngest brother's 30th birthday. Unfortunately, he dislocated his ankle and broke both bones in his lower leg a couple of weeks ago and only got out of hospital after surgery a couple of days before his party. So he didn't have quite the big night that he was planning - more an evening of holding court in a comfortable chair while friends fetched his dinner and drinks. Actually that sounds pretty good!!
I saw my other brother, David, on Sunday night and presented him with the Brown Nemesis! It immediately went over his head and was pronounced to be "awesome" and a "perfect fit". Oh, so satisfying to see one's creation being truly appreciated! I forgot to take a photo so my sister-in-law is taking one for me and will email it. I'm sure my brother won't mind modelling on my blog :)
Unfortunately, my father has decided he'd like one too, with the "Flying A" emblem of his 1949 Austin A90 Atlantic convertible on the front of the shoulder. Hmmmm. He will have to wait a while for that one. There will be no man's jumpers on this knitter's pointy sticks for a while, I think!
My opal
lacy mock cable
sock is now finished and I'm really rapt with it! It's too small for me, which is perfect, because my sister-in-law (for whom it is intended) is a couple of sizes smaller in her shoes. She has lovely, dainty little feet!
And last night I finished the first passionfruit lacy mock cable. It is divinely soft and really feels like I'm wearing a warm cloud on my foot! I had to adjust the pattern a little because I have big ankles and very high insteps, but it worked out very well indeed.
Although I was cursing a blue streak when my yarn broke halfway through grafting the toe, leaving a 3cm tail which looked innocently up at me. But I knew it was secretly full of malice. A weak felted join ensued, followed by me very gingerly finishing the toe and then weaving the strong yarn through the stitches from the inside. Hopefully my toes won't poke through.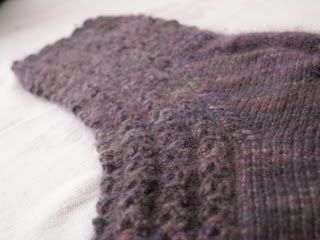 Also on the needles is a fun, merino bambino jumper for an old friend who's having a bubba next year. He or she will be born in March, so I'm making one for a 6 month old. She lives in Queensland, but out west, so they have very cold nights in winter. I love these bright colours! Not sure why, but I have a faint aversion to the insipid colours babies are so often dressed in. To me, they scream, "I am vulnerable and helpless" rather than "I am a cool little person with my own personality."
She won't lose her little baby in THIS jumper - that's for sure!!
My habit is to save the best until last, whether it be food or otherwise. I got back to chambers on Wednesday after my trip away to find a curious little parcel on my desk! I didn't know the address and, after scrutinising the signature, took a stab in the dark and
Bells
confirmed my suspicions! A lovely little red box was inside, in which were nestled five gorgeous stitch markers from our very own
Georgie
!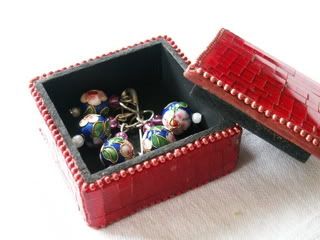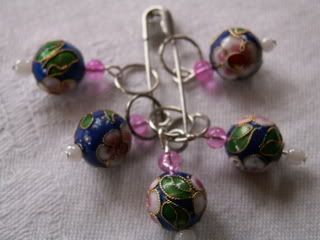 They were a present for finishing the brown nemesis! And, to make my gift even more special, George informed me later that she had in fact made them herself. Funnily, I'd been hunting around for some lovely stitch markers that weren't ridiculously overpriced.
So thank you George - I love them!!