since I updated my blog. How hopeless am I? Maybe busy is a better word. On top of juggling our respective jobs with looking after our little girl, Glynn and I have decided that 2009 is the "Year of the Houseguest". Since about October last year, we've had something like 6 weeks on our own. It seems like we've barely spent 5 minutes together. And the washing!! Sometimes we had people arriving and departing on the same day with about a 30 minute gap, barely enough to change the bedding and air out our guest room. Fortunately, we have a couple of weeks until the next onslaught, which will last until the end of September. Unsurprisingly, we've decided to have Christmas alone. In an isolated place. An undisclosed place. Where we can just "be".
I do trawl other people's blogs to drool over their creations, but am always too embarrassed to comment because my blog is so hopelessly out of date lol!!
But, in amongst all this upheaval, there has been knitting. Without it, I am sure I would have gone insane. There is something about curling up on the couch and drifting off into a world of yarny loveliness. Serenity, whilst chaos is all around.
This year, our baby has grown into the most beautiful little girl imaginable. Every day is an absolute joy and watching over her as she learns new things is an absolute privilege and a blessing. Just look at this lovely little face.
Now, enough gushing and on to the important stuff!! This post would go forever if I posted all the things I've made, so I've just chosen a few of my favourites!
A good friend is turning 50 this year, so I embarked on my first Forest Canopy Shawl. Loved it! Except when I had an "arrogant" moment and decided I didn't need lifelines. I just can't chat and knit. An omitted YO meant undoing about 800 stitches. One at a time. I couldn't look at it for a little while, but it's all ready for delivery next week!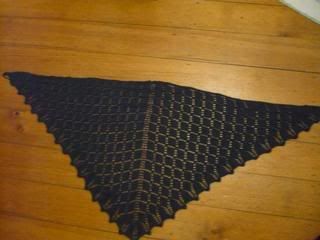 Yarn:
Jo Sharp Alpaca Silk Georgette in Pebble (3 balls)
Sticks
KnitPicks Options 5mm
Pattern changes
I did 4 extra repeats - thought it was a little small
These are my first
Spring Forward
socks. Such a great pattern - I did this in just 3 evenings! So a big thanks to
Carol
for her recommendation. During one of those aimless "hand dyed sock yarn" googling sessions that one engages in from time to time, I discovered
Moseley Park
. You can't imagine how chuffed I was to discover a hand dyed sock yarn producer that
Bells
had never heard of. This is the bamboo/merino blend in "Plum Tart". I thought it was somewhat optimistically named, given that it is in shades of rose, smoky lilac and palest apricot! Perhaps there was a lot of cream in this particular tart. Gorgeous stuff nonetheless and I'll definitely be treating myself to more!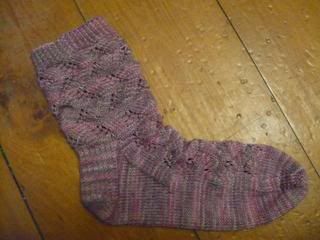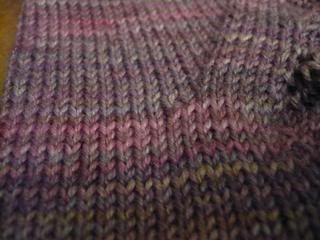 Here are my delicious new
Hederas
in Colinette Jitterbug Velvet Bilberry. I discovered them on
RoseRed's
blog and loved them. I took note of the different YO size between P and K stitches and so I did the suggested method of picking up on the following row instead. Worked pretty well I think. I also used 2.75s to accommodate my tree trunks.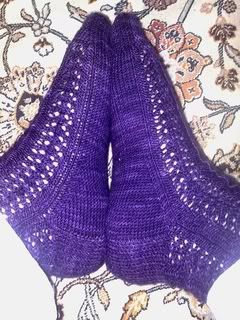 Monkeys
in Wendy Happy Bamboo. These are Glynn's - he saw some other monkeys I'd made and decided the pattern was not feminine but "interesting and intricate". Lucky they're blue, is all I can say!!
A little cardigan for Samara in Zara dark wine. This was a Sirdar DK pattern I dug up from somewhere. It was supposed to be for a friend's little girl, until I noticed the very obvious mistake on the left front! So Samara got lucky and Gracie got a perfect one. The making up on hers is much better too - I hate making up with a vengeance. I wish there was a Mattress Stitch Fairy.
I can't take credit for this one - it was made by my Auntie Joy, but it's so exquisite that I had to put it in.
And, of course, new acquisitions! Have been buying up big in the sales. All in the name of beating the Global Financial Crisis, of course. My motives are entirely benevolent. Here are a few favourites.
Lovely, lovely Knit Picks Options! What a beautifully presented set this is - it looks like it should be opened to reveal some deliciously thick and creamy vellum, to be used at an antique ladies' desk, at a window overlooking a rose garden.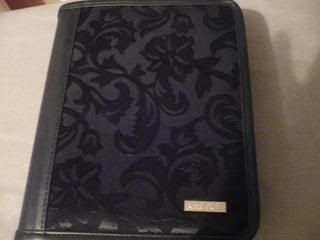 More Moseley Park, this time in "Aubergine".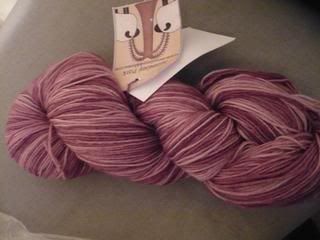 Scrumptious Noro Silk Garden Sock. I have been stalking Ravelry looking for something to inspire me, but nothing strikes as yet. I aimlessly started knitting a sock just to see what it looked like. Under the lamp, it was like knitting spun peacock feathers. But the 60 stitches on 2.5s would fit an elephant! So my "just because" sock will have to go.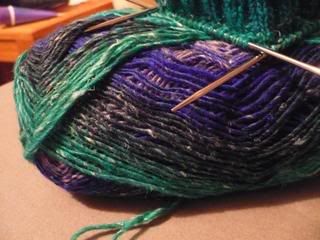 Araucania Ranco. It's been silent so far on what it wants to become but I take it out every now and again, just to fondle. It reminds me of a jar of boiled sweets!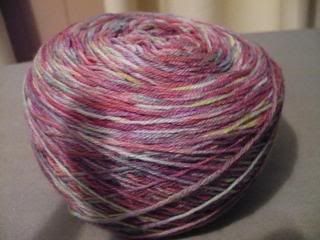 Well, if nothing else, at least I've recorded a few things for posterity! I won't tempt fate by promising to be good by updating my blog more regularly. That would surely result in me being very BAD!!